Sun Safety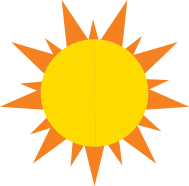 Sun safety is never out of season. Whether you're going to the beach, enjoying an autumn hike or building a snowman, protect your overall health and avoid sun damage.
Studies show that exposure to the sun can cause skin cancer, the most common form of cancer in the United States. Harmful rays from the sun and tanning beds may also cause premature aging and other health problems.
---
Sun damage is caused by invisible, but harmful, ultraviolet (UV) radiation.
Everyone is susceptible to sunburn and other harmful effects of exposure to UV radiation. Take these precautions to protect your skin:

Avoid the sun between the hours of 10 a.m. and 2 p.m. Even on an overcast day, up to 80 percent of the sun's UV rays can get through the clouds. Stay in the shade as much as possible.

Wear clothes that protect your body and cover it as much as possible. Consider a wide-brimmed hat, long sleeves and pants, as well as an umbrella for shade.

Ask your health care provider if any of your medications increase sun sensitivity.

Use lip balm and water-resistant sunscreen with a sun protection factor (SPF) of at least 30. Apply sunscreen 30 minutes before going outside for any activity and reapply every 90 minutes or after swimming or sweating.

Buy sunglasses that specifically offer 100 percent UV protection. Wraparound sunglasses offer the most protection. Children should wear real sunglasses (not toy sunglasses!) that indicate the UV protection level.